Necklace Holder - Jewelry Box Organizer- 12 Section
⛟ In stock items usually ship within 1-2 business days.
Pickup currently unavailable
ORGANIZE & SAVE TIME - Are you running around the last minute looking for your matching necklace or bracelet? This beautiful designed necklace organizer will keep your jewelry neatly organized in one place and so they're accessible and easy to find.

PERFECT NECKLACE ORGANIZER: This Necklace organizer has 12 sections 7 regular and 5 large designed for all kinds of necklace, bracelet and chins, one hand operated boucle closure and large built in mirror, measures 10.25 Inches x 10.25 Inches x 3.5 Inches.

UPSCALE DESIGN & APPEARANCE - Want to keep your jewelry nicely while enhancing your bedroom decor? This Jewelry box has our patented designed buckle closure and are made from sleek pu leather & smooth velvet interior for superior appearance and durability.

THE GLENOR CO PROMISE - When you buy a Glenor Co product you can be sure that only the best quality materials and outstanding craftsmanship were used to make this product and nothing less, don't be mislead by cheap copycats, only buy the original.

THE PERFECT GIFT IDEA - Want to gift your loved one? This Glenor Co Jewelry box is ready for gifting, comes already packaged in an elegant gift box includes a blank gift card, it's the perfect gift for your wife, girlfriend or any special women & girl in your life.
Are Your Necklaces All Over The Place?

Struggling to find it every morning? Looking for the most beautiful jewelry box to accommodate an expanding necklace collection?

Glenor Co Necklace Box is ultimate solution! It will keep all of your necklaces neatly organized and beautifully displayed. We guarantee it and so do our customers.

THE ULTIMATE JEWELRY BOX 

●12 Compartments - Each box has 7 small compartments for smaller necklaces and 5 large compartments to hold larger necklaces for the ultimate organization and easy display.
●Attractive Contemporary Design -Glenor Co has given much attention to every little detail while designing this box. It's elegant buckle, beautiful large mirror and smooth design is the perfect combination of modern and class. 
●Magnetic Snap - Special designed mechanism to open & close easily even while operating with one hand, closes firmly to prevent your jewelry from aging and never opens by itself. 
●High Quality - Glenor Co jewelry box is made with solid, sturdy & highest quality materials only and excellent craftsmanship designed to last for a long time. 
●The Ultimate Gift - Already packaged in an elegant gift box & a blank gift card included inside, this stunning jewelry box is the perfect gift idea. 

Open your box to discover 

●PU Leather smooth exterior with belt and stitching detail. 
●Modern Metal on the closure belt for a classy touch 
●The interior is covered in a soft velvety fabric to protect against scratches.
●Lift-Out tray and bottom space with a total of 12 variable compartments. 
●Large built-in mirror 
●Packaged in a beautiful Gift Box 
●Blank Gift Card included 

Glenor Co Jewelry Box is the only Jewelry box backed by a No-Hassle Money-Back Guarantee to ensure 100% Satisfaction.

So what are you waiting for? Click ADD TO CART now!.
BE HAPPY!
Glenor Co offers a 100% satisfaction Money-Back Guarantee to ensure complete customer satisfaction. You are guaranteed to end up happy.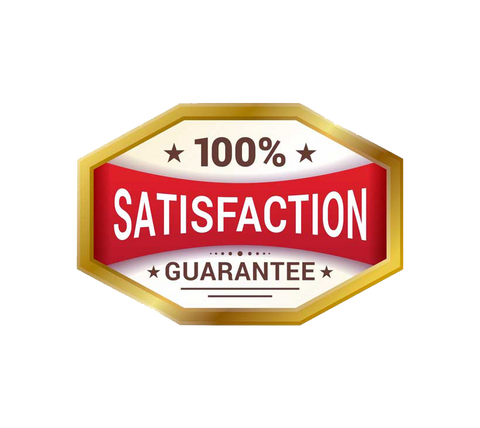 The most loved jewelry organizers!
With a more than half a million boxes sold, and thousands of happy customers across all ages and states, this GLENOR CO jewelry box was designed, Trademarked and Patented by Glenor Co. Glenor Co stands firmly behind its products and only the HIGHEST QUALITY materials and craftsmanship were used to create this box.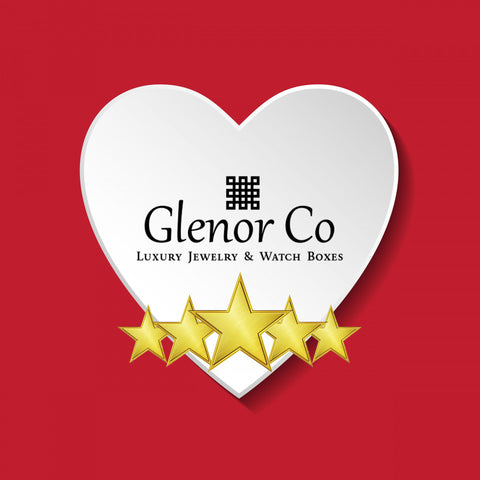 "I couldn't have been more pleased with this box!"
"Not only is it beautiful, but it is well made"
"meets the purpose for which it was designed. I just love it!"
GIFT BOX & BLANK CARD
An elegant gift box and blank card is included with each Jewelry box for the most presentable gift giving. This makes a great gift for a mother, girlfriend, wife, daughter, colleague, friend or any other special woman in your life.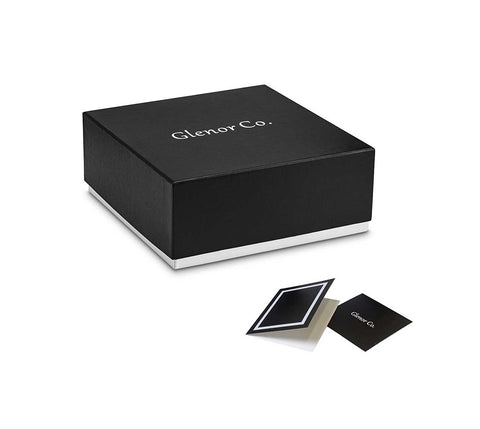 Great product
Maximizes space yet isn't overwhelmingly large
Lovely as all Glenor Co. products are!!
Necklace and Jewelry Boxes
Love the boxes. After having my jewelry in several different boxes, it's nice to have them in one spot now that I can see. Love the boxes. Very beautiful.
Necklace jewelry box
This is keeping me so organized. Everything in one place. I have another Glenor jewelry box that contains earrings , rings and bracelets.
I love the look of this product.
Beautiful jewelry box
For years I have been keeping my good necklaces and bracelets in many different boxes. This made me forget what I even had. This beautiful box now stores them in a wonderful material lined compartment so that they are protected and displayed. The 2 levels fits all my jewelry type needs.